The Hospital (Manopchar) Facilities

Post Graduate Institute of Behavioural & Medical Sciences (PGIBAMS)
Clinical Instruments & Testing Materials Available in Our Hospital .

• ECT Machines
• Suction Machines
• EEG Machines
• Opthalmoscope
• BP Apparatus
• Ambu – Bags
• Generator Sets
• Computers
• Boyle's Apparatus
• General Instruments and Equipments
• Laryngoscopes
• Ambulance
• LCD Projectors
• OHP Projector
• Printers
• Scanners

Manopchar Hospital

Santvana Manopchar Mana-Basti, Raipur(C.G.)
Indoor
• Ladies Ward
• Male Ward
• Private Ward
• Doctor's Room
• Canteen
• Staff Room (3 Rooms)
• Watchman Tower
• Elect. Cum Pump House
• Hostel (Boys & Girls)

Manopchar : Out Patients Department (OPD)
There is enough & adequate sufficient number of examination cubicles available in the O.P.D.

• Room for reception and registration counter.
• Waiting hall for patients
• Room for Consultant Psychiatrist.
• Room for Clinical Psychologist
• Room for Psychiatric Social Worker
• Room for Neuro-Physician
• Room for Seminar
• Room for modified ECT
• Room for Post-ECT Patient
• Room for EEG recording
• Room for X-Ray
• Room for Patho-Lab
• Room for Behaviuor Therapy
• Room for D.N.B. Trainee
• Room for Physician
• Room for Sex Therapy
• Room for Workup of M. Phil. Students

Entertentment & Recreational Facilities for Indoor Patients

Manopchar : Out Patients Department (OPD)
• Library for Patients (with reading room facility): Novels, Storybooks, Magazines and Newspapers.
• Colour TV Sets in all wards.
• Indoors games - Caromboards, Chess.
• Outdoor games – Badminton, Volleyball.

Occupational Therapy

Manopchar : Out Patients Department (OPD)
Tailoring - Two Sewing Machines (One with functions of Pico, Embroidery etc.).
Dry Grinding – One Electric Grinder (For training in Spice-grinding).
Wet Grinding – One Electric Grinder ( For training in Wet Cereals- grinding).
Traditional Craft Making.
Gardening.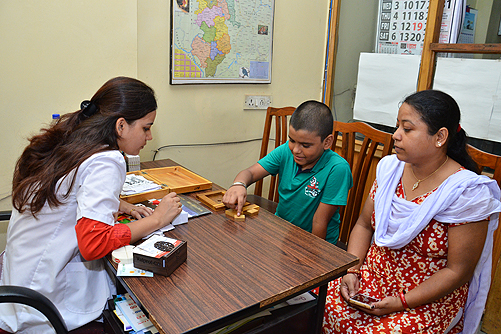 PGIBAMS Institute Department
Departments of Post Graduate Institute of Behavioural and Medical Sciences (PGIBAMS), Raipur, Chhattisgarh.