Library

Post Graduate Institute of Behavioural & Medical Sciences (PGIBAMS)
:: Journal List of Neurology, Psychopharmacology, Psychiatry, Social Work & Medical Journals Available in The Library.
:: Reference Books of Clinical Psychology Available in The Library.


Having more than 1000 books & journals on Psychiatry, Psychology, Psychiatric social work, Neurology and Neuro-Anatomy, General Medicines, Physiology, Pharmacology (both texts and references).

Timing : 11 am to 5 pm (Monday to Saturday)
List of Staff :
Following Table Shows Library Staff.


| | | |
| --- | --- | --- |
| Name | Academic Qualification | Designation |
| Ku. Sheela Khonde | B. Lib, M.A, M. Lib, | Librarian |
LIST OF JOURNALS OF PSYCHIATRY
1. American Journal of Psychiatry
2. British Journal of Psychiatry
3. Indian Journal of Psychiatry
4. Journal of Clinical Psychiatry
5. Archives of General Psychiatry
6. Psychiatry Clinic of North America
7. Child and Adolescent Psychiatric Clinics of North America

LIST OF JOURNALS OF NEUROLOGY
1. Neurology – India
2. Journal of Neurology, Neuro-Surgery & Psychiatry
3. Journal of Psychopharmacology

LIST OF JOURNALS OF CLINICAL PSYCHOLOGY
1. British Journal of Clinical Psychology
2. British Journal of Social Psychology
3. Behavioural Therapy and Research
4. Indian Journal of Clinical Psychology
5. Journal of Consulting and Clinical Psychology
6. Journal of Mental Health & Human Behaviour
7. Journal of Disability Management and Clinical Psychology (JDMCP)
8. Journal of Rehabilitation Council of India (JRCI)
9. Cognitive Behaviour Therapy

LIST OF JOURNALS OF PSYCHIATRIC SOCIAL WORK
1. International Social Work
2. National Journal of Professional Social Work

LIST OF JOURNALS OF M.SC. PSYCHIATRIC NURSING
1. Christain Medical College, Vellore
2. Christain Medical Journal of India
3. Choitram College of Nursing
4. Muller Journal of Medical Sciences & Research
5. Journal of Nursing Research Society of India
6. IOSR Journal of Nursing and Health Sciences
7. IOSR Journal of Research and Method in Education

INTERNATIONAL JOURNAL
1. British Journal of Nursing
2. American Journal of Psychiatric Clinics America
3. Psychiatric Clinics of North America
4. International Journal of Nursing Care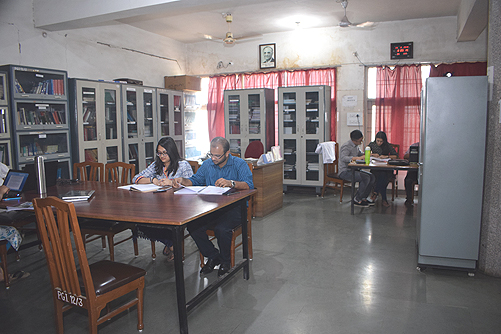 PGIBAMS Institute Department
Departments of Post Graduate Institute of Behavioural and Medical Sciences (PGIBAMS), Raipur, Chhattisgarh.